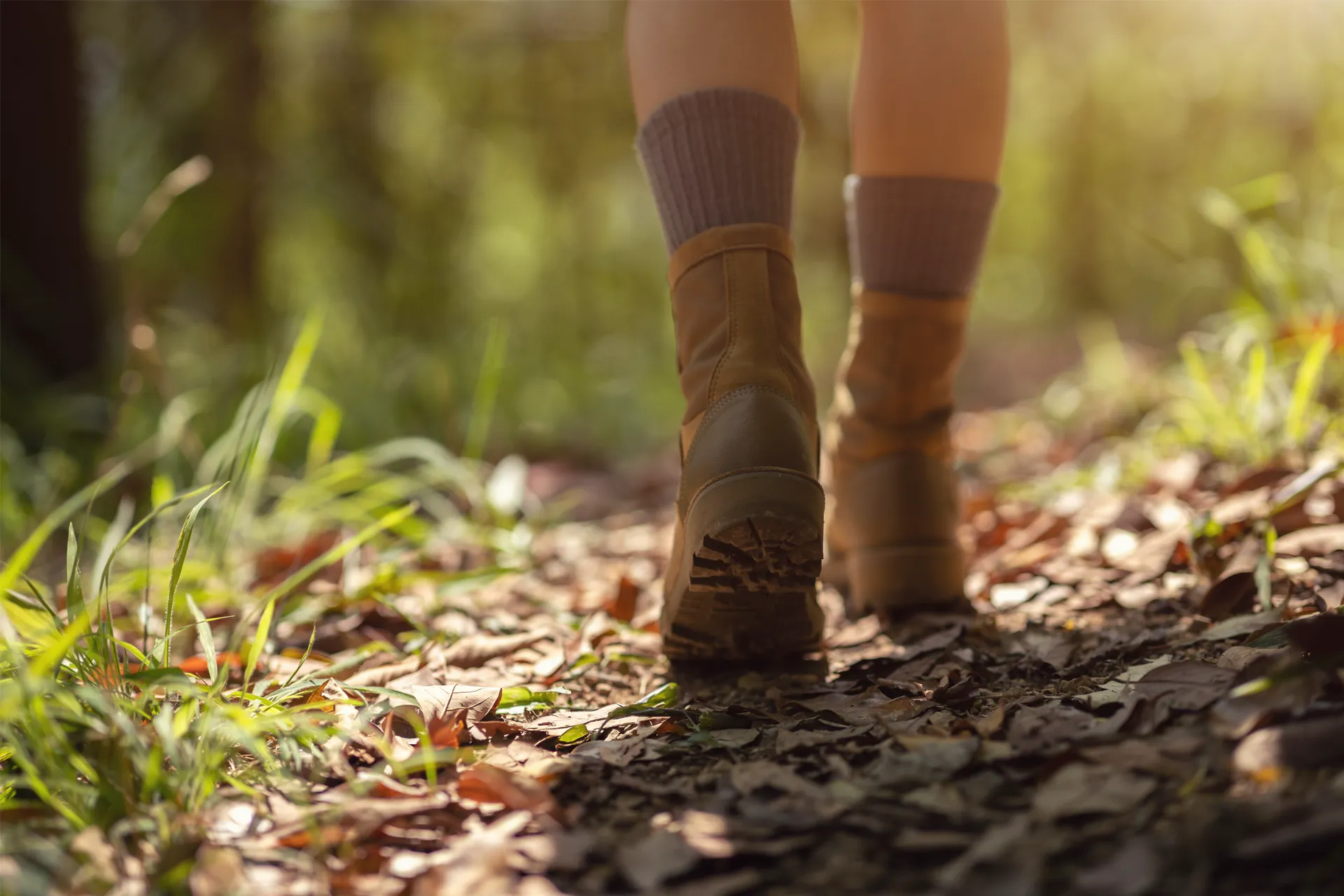 Your best days are ahead.
You don't have to trade away the life you love because of the pain, stiffness, or loss of mobility you're experiencing now.
We meet you where you are physically today, so you can keep doing what you love tomorrow and years into the future.
Overcome your physical challenges
Your treatment plan is customized to reach your goals.
Stay injury-free
Build a foundation of mobility, stability, and strength to move through life with confidence.
Feel better than ever
Add nutrition, sleep, and other healthy habits to live the life you've always imagined.
Pursue long-term wellness
Continue your journey with online and in-person programs to maintain everything you've worked to achieve.
Physical issues can feel like a roadblock to enjoying your life — but with the right care, they can be just a bump in the road.
And here at Thrive, PT isn't the end of the road. We're along for the ride and can't wait to help you create a path to wellness and all the adventures that lie just around the corner.
Analysis
Meet one-on-one with a Thrive pro to goals and get a thorough evaluation. You'll leave with a custom Thrive Success Action Plan.
Action
We'll work together as a team to reach the goals laid out in your plan, encouraging you to keep at it beyond our office, too!
Growth
We're here to support your wellness for life through in-depth programs like Fit to Thrive and Transformation Academy.
Recovery + Restoration
Orthopedic PT, post-op rehab, and sports medicine to get you moving again.
Physical therapy is just the beginning.
Progress + Performance
Fit to Thrive: the fitness program designed to fit your life — LIVE and online!
Wellness + Joy
Transformation Academy: our signature coaching program and course
When you thrive, we thrive.
After physical therapy with Clarke and Chad, I participated in the Thrive Transformation Academy — and it was exactly the path I needed.
For the first time, I was not just focused on physical exercises but also mental wellness. Through this program, I gained so much knowledge about exercise, goal setting, beliefs, mindset, healthy habits, and self-compassion.
After dealing with chronic pain for more than two years, I am finally gaining the confidence to live my life again.
Because of Thrive, I am stronger and healthier than I was 10 years ago!
My improved posture has changed how I feel and look thanks to the team's dedicated attention and positive attitude. A client group even asked if I was an athlete. I am kayaking, riding horses, hiking, lifting heavy loads — and loving life!
Out of all of the PTs I've visited, Clarke is the only one who made massive, visible progress with my mobility.
I couldn't raise my hand above my head, and now I can reach my entire arm straight up over my head!
Clarke is personable and takes time to understand your body's mechanics, looking at the problem holistically and not "spot treating." I continually recommend him to family and friends, and they have seen similar results.
You deserve real healthCARE.
We know how frustrating it is when your body holds you back from doing the activities you love.
Losing physical capability can even feel a bit like losing your identity sometimes.
We're physical therapists and healthcare professionals, but we've also experienced pain and limitations — just like you.
We all deserve to feel our best and love our lives!
Since we started our practice in 2005 in Richmond, we've been honing our skills as physical therapists and continually developing new ways to help our clients create fulfilling lives, including education and wellness programs that combine exercise, nutrition, sleep, and healthy habits.
It's not about putting a Band-Aid on your surface discomfort.
We start by digging deep to figure out why you're feeling the way you are now. Then we create a plan to address the root causes — and help you chart a path to many years of health and happiness ahead.
Want to learn more about how we put the care back in healthcare?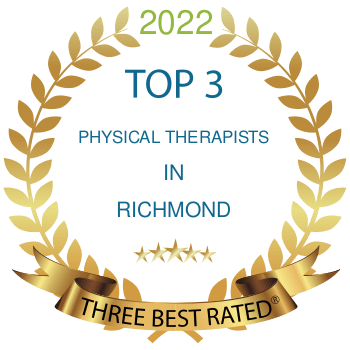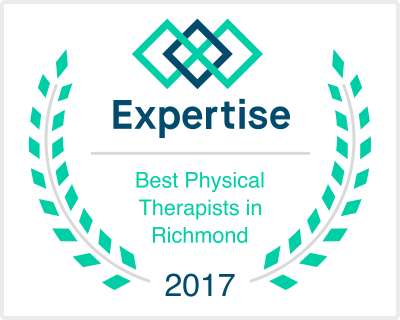 Here are a few answers to some of our most frequently asked questions.
What are Thrive PT's hours?
Thrive Physical Therapy and Wellness is open weekdays with the following hours:
Monday: 7 a.m.–7 p.m.
Tuesday: 7 a.m.–4 p.m.
Wednesday: 7 a.m.–6:30 p.m.
Thursday: 7 a.m.–5:30 p.m.
Friday: 7 a.m.–4:30 p.m.
We are closed Saturdays and Sundays.
What is physical therapy?
​Physical Therapy is a dynamic profession with an established theoretical and scientific base and widespread clinical applications in the restoration, maintenance, and promotion of optimal physical function.
Physical therapists:
Diagnose and manage movement dysfunction and enhance physical and functional abilities
Restore, maintain, and promote not only optimal physical function but optimal wellness and fitness and optimal quality of life as it relates to movement and health
Prevent the onset, symptoms, and progression of impairments, functional limitations, and disabilities that may result from diseases, disorders, conditions, or injuries.
Physical therapists engage in an examination process that includes taking patient/client history, conducting systems review, and performing tests and measures to identify potential and existing problems.  To establish diagnoses, prognoses and plans of care, physical therapists perform evaluations, synthesizing the examination data and determining whether the problems to be addresses are within the scope of physical therapist practice. Based on their judgments  about diagnoses, prognosis and based on patient/client goals, physical therapists provide interventions, conduct reexaminations, modify interventions as necessary to achieve anticipated goals and expected outcomes and develop and implement discharge plans.
Should I ask my doctor about PT?
The State of Virginia no longer requires a prescription for treatment by a physical therapist.
However, you may also get a prescription  while under the care of a licensed doctor of medicine, osteopathy, chiropractic, podiatry, dental surgery, licensed nurse practitioner as authorized in his practice protocol, or a licensed physician assistant acting under the supervision of a licensed physician.
We recommend inquiring about any conditions that could benefit from physical therapy with your physician.  You may also call us to discuss your problem and potential benefits of our services.
The physical therapy provider you seek is ultimately your decision.  You may see any physical therapist you choose, although many people get a recommendation from their physician or insurance company (in-network providers) and many of our patients are referred to us by patient's family and friends.
To schedule an appointment with one of our therapists, please call our office at 804-320-2220 or Request an Appointment online.
Do I need a prescription for PT?
Great news: You no longer need a prescription in Virginia to seek treatment from a physical therapist!
More great news: We accept many insurance plans and continue to expand so that more patients can access the care they need.
As of September 2023, we accept plans through:
Aetna
Anthem BCBS
Champus Tricare
Cigna
Medicare
United Healthcare
Workers' Compensation
We'll verify your benefits and let you know whether you're covered — and how much your evaluation and subsequent visits will cost — before you come in.
I'm not sure I need PT. Can you help me figure that out?
Absolutely!
During your first visit, your physical therapist will perform an examination/evaluation to determine what deficits and/or problems you have that can be addressed with physical therapy.
The initial evaluation includes a thorough history through a detailed interview, systems review, and tests and measures that allow the physical therapist to get an understanding of your condition.
Your physical therapist will make a clinical judgment as to your diagnosis and prognosis and a treatment plan will be developed aimed at resolving the problems identified as well as to achieve the goals you and your physical therapist determine.
Will my insurance cover physical therapy?
Most insurance companies cover physical therapy services to a certain extent depending on your specific plan.
Co-pays, coinsurances and deductibles are determined by your insurance company and your specific plan.
Some plans require pre-authorization before initiating treatment and authorization will need to be obtained before therapy services begin.
As of September 2023, we accept plans through:
Aetna
Anthem BCBS
Champus Tricare
Cigna
Medicare
United Healthcare
Workers' Compensation
We'll verify your benefits and let you know whether you're covered — and how much your evaluation and subsequent visits will cost — before you come in. We also ask that you call your insurance company to educate yourself and confirm benefits.
What types of treatment might I receive at Thrive?
Your treatment is dependent upon your condition and determined by your physical therapist and physician.
Treatment may include patient/client instruction, home exercise instruction, and "procedural interventions" such as:
Manual therapy
Postural training
Functional training (home, work, activities of daily living
Movement retraining
Sport performance
Exercises to correct physical imbalances
Massage therapy
Dry needling
Neuromuscular re-education
Heat, cold, and electric stimulation
Prescription/application of equipment
How long will I receive treatment?
It depends on several factors: severity of your injury, your dedication and active participation in doing your part, and some patients limit their amount of physical therapy when their insurance coverage is complete.
You are able to continue physical therapy services but the financial responsibility would be on your part.
Our goal is to not only to eliminate your pain but to empower you with information and knowledge so that you can take care of your body and reduce the likelihood of your pain returning.
What if my symptoms get worse?
If you have increased symptoms, please call your physical therapist. When you call the office, please be sure you explain to the office staff that you are having an increase in symptoms and you would like to speak with your physical therapist. 
Your physical therapist or covering therapist will give you a call back that same day.
If you are discharged from physical therapy and feel the need to return, you should contact the physical therapist who treated you.
He or she will consult with you to determine a course of action.
How long will my sessions last?
At Thrive Physical Therapy and Wellness, you can expect to spend 60 minutes in our clinic for your initial evaluation.
Treatment sessions range from 30 minutes to one hour.
What should I wear to physical therapy?
In general, wear comfortable clothing.   If you are presenting with a problem of your cervical spine, upper back or shoulders, a tank top or sports bra is recommended.
Shorts are recommended for spine, hip, knee, or foot problem.
And always be sure to wear proper footwear — similar to what you would wear for a casual walk or trip to the gym.
What do I need to bring to my initial evaluation?
Please bring your insurance card, a valid ID, and any paperwork we've asked you to fill out.
If you have a prescription from your doctor, please bring it, along with any operative reports and orders, and imaging results.