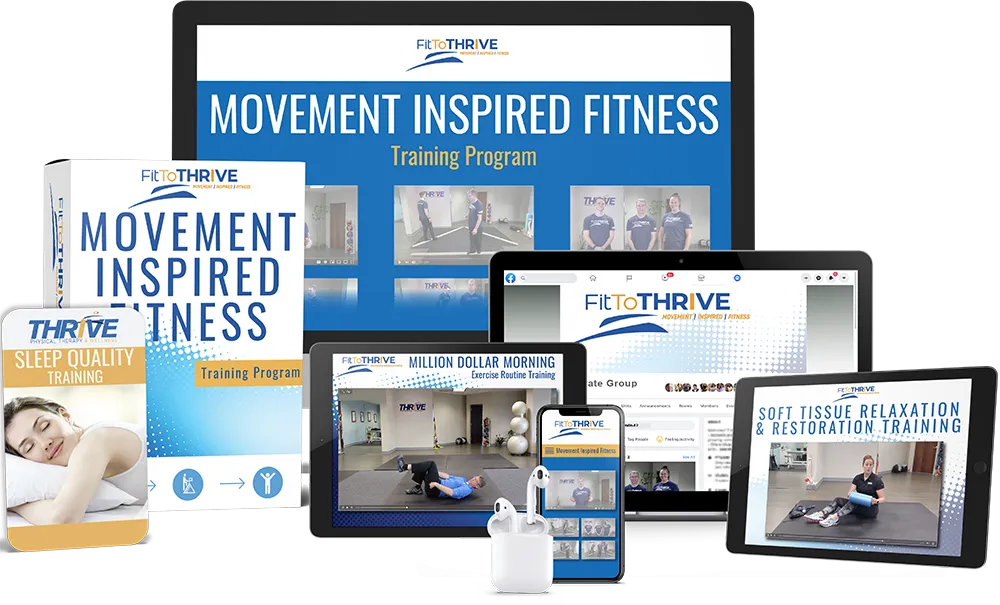 Are your workouts…working?
Cycling. Crossfit. Running. Rowing. Weight training. Power walking. Yoga. Zumba.
There are so many options for getting fit today (all the options could fill this page and more!).
But how do you know which is the "right" one for you?
And even if you've discovered a workout you enjoy, what does "right" even mean for your body and needs?
Answering these questions gets even more complicated if you've experienced an injury, had surgery, or feel you're simply losing mobility and strength as you get older.
The truth is, most workouts don't offer a sustainable way to stay healthy and physically capable through the years. And eventually
You might be having fun and feel fit right now… But are you building a foundation that will last a lifetime?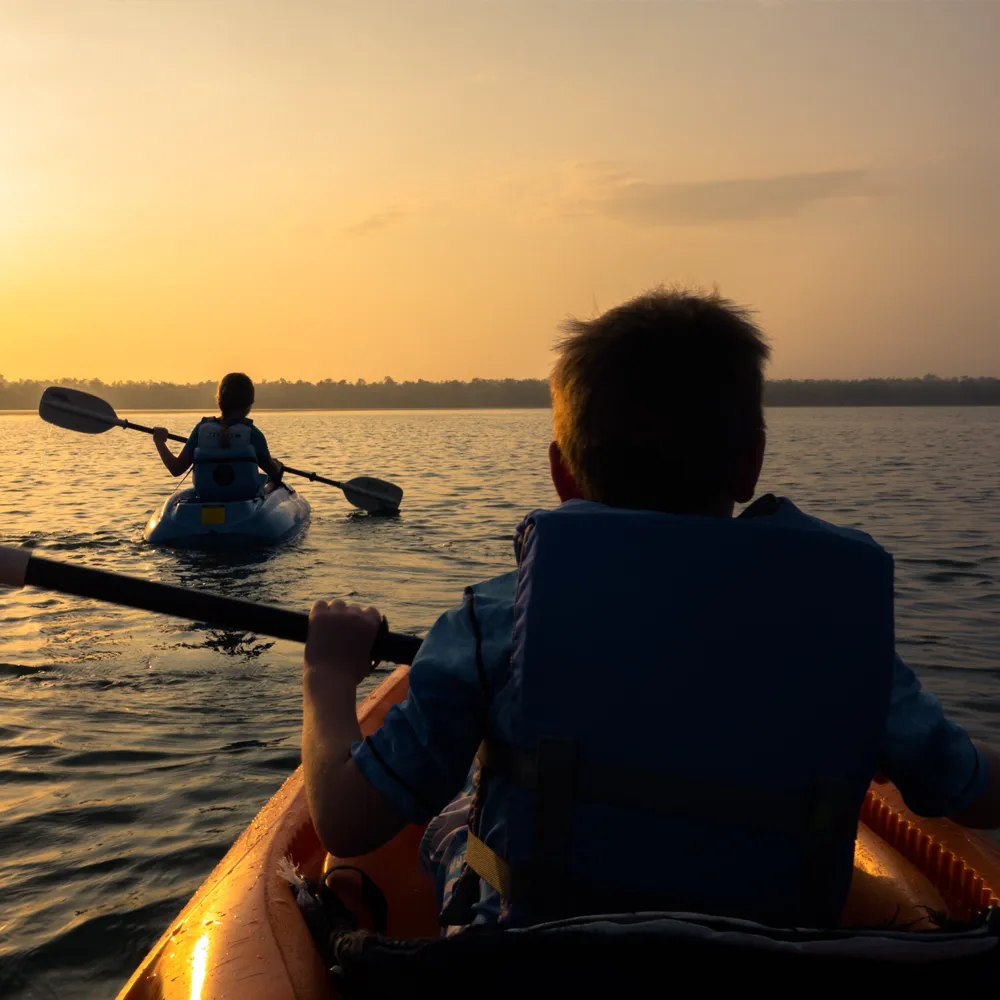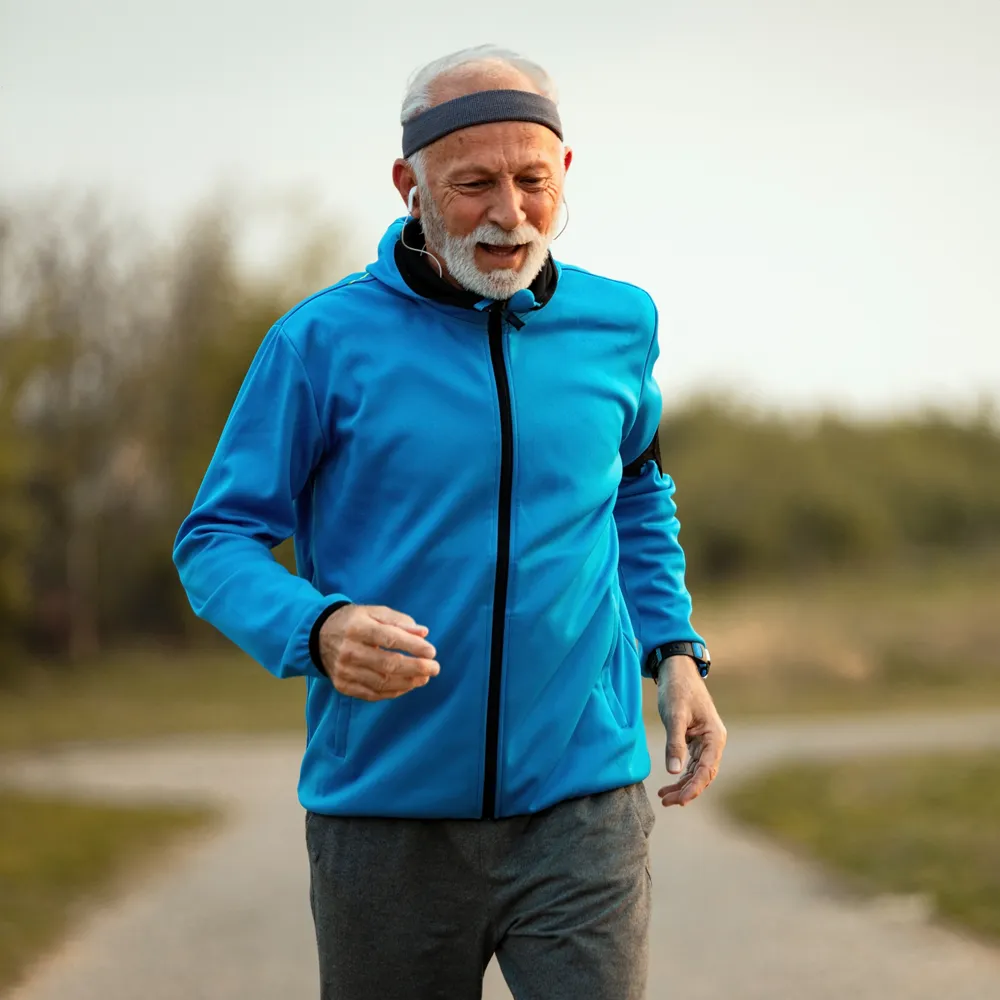 The solution: Build your Movement IQ.
Just about any workout can get your heart rate up, burn calories, maybe trim your waistline.
But the long-term answer for wellness isn't fitness for fitness's sake.
Fit to Thrive is the fitness program designed to up your Movement IQ and give you the foundation to do what you have to do in life — plus the strength and mobility to keep doing what you love to do.
With a high Movement IQ, you can…
Wake up with less stiffness and soreness
Confidently do everyday activities with more stability and fewer injuries
Tackle your big weekend project without "paying for it" on Monday
Sleep better and greet every day feeling more positive
Tap in for overtime or go the extra mile playing your favorite sport
Get smarter in your own body
Fit To Thrive boosts your Movement IQ by teaching you to…
Identify your areas of need and focus
Improve mobility, core strength, and posture
Choose delicious foods that fuel your body
Relax the body and mind to relieve tension
Build mobility, strength, and balance with powerhouse workouts created by PT experts
Measure your progress across sessions through benchmarking
Who is Fit to Thrive for?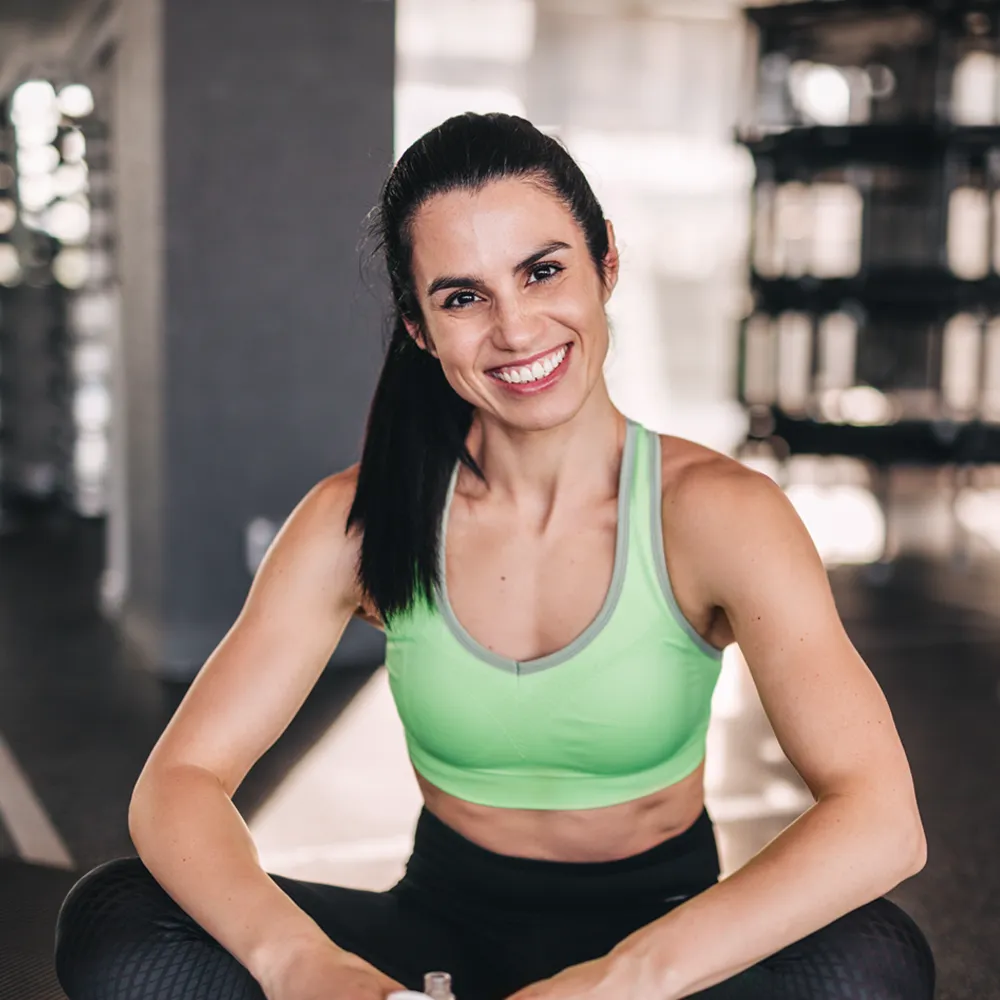 Young adults
Create fitness habits that stick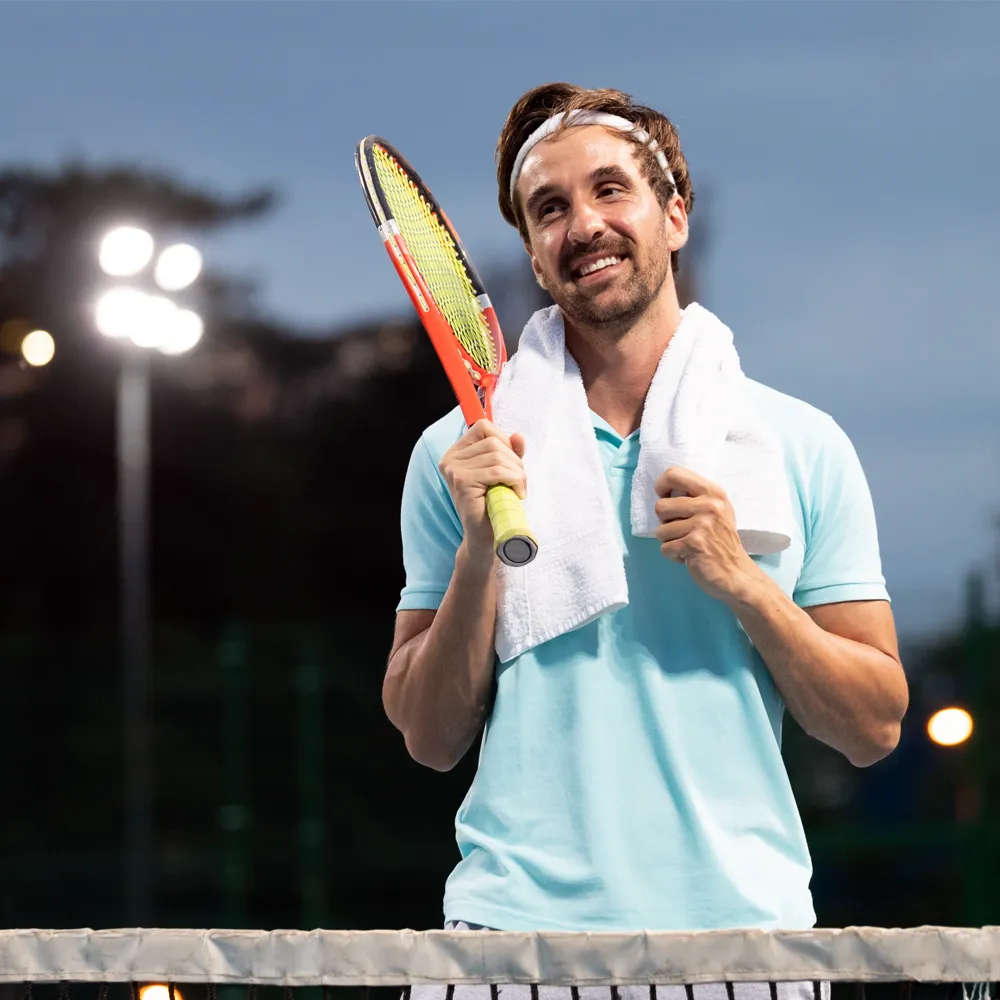 Athletes
Train for peak fitness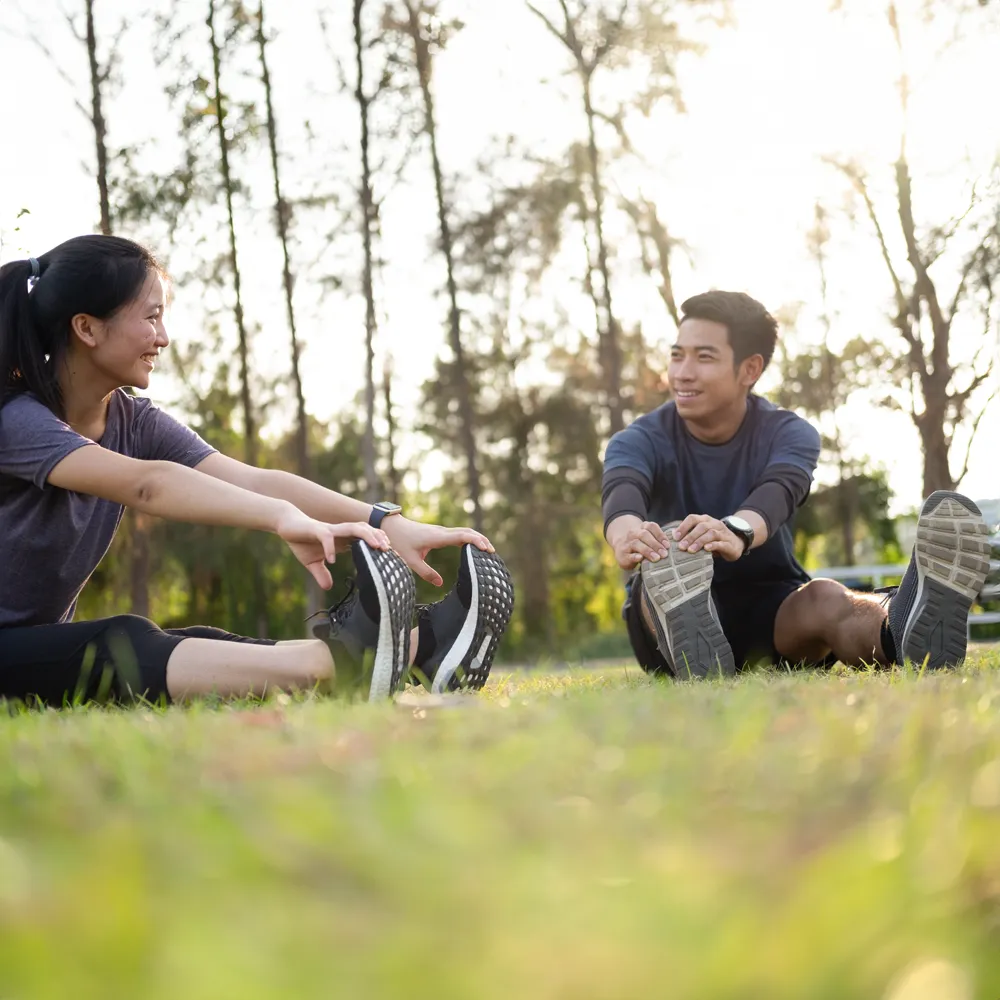 Busy professionals
Make the most of limited workout time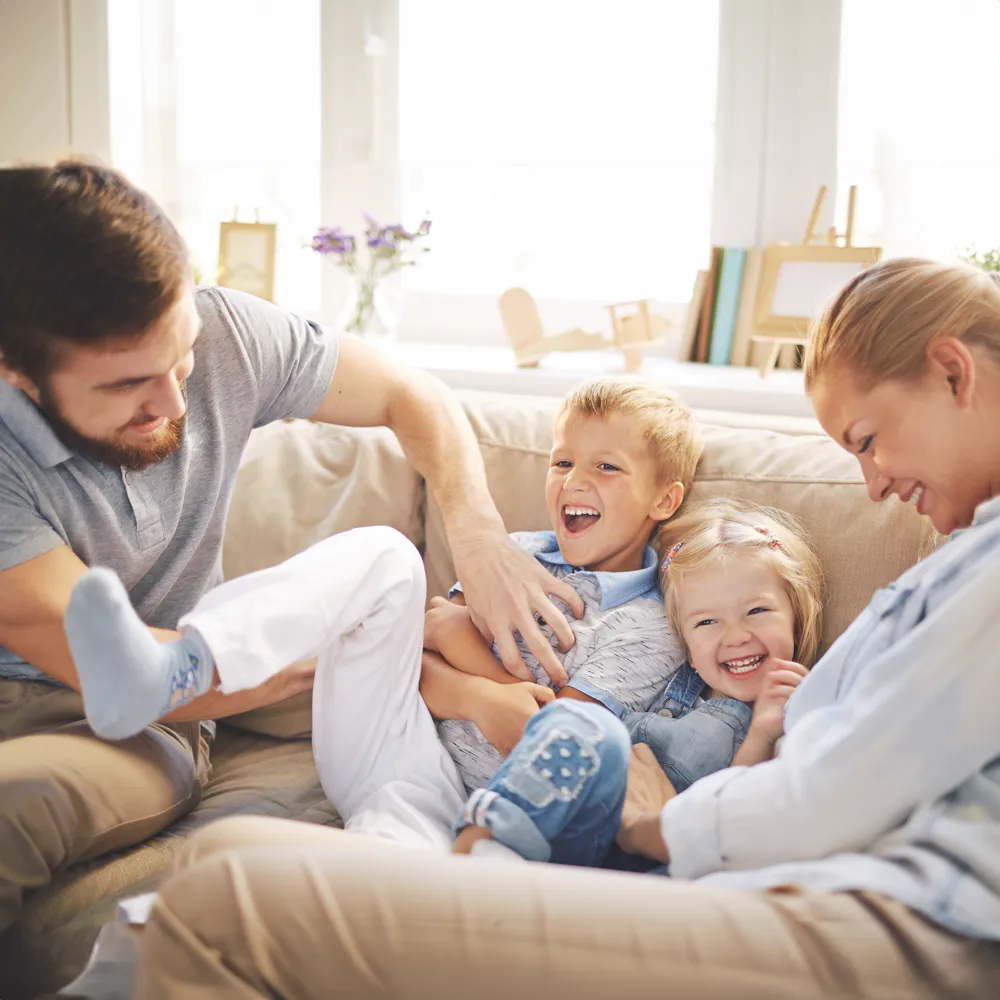 Parents
Be strong and fit for your family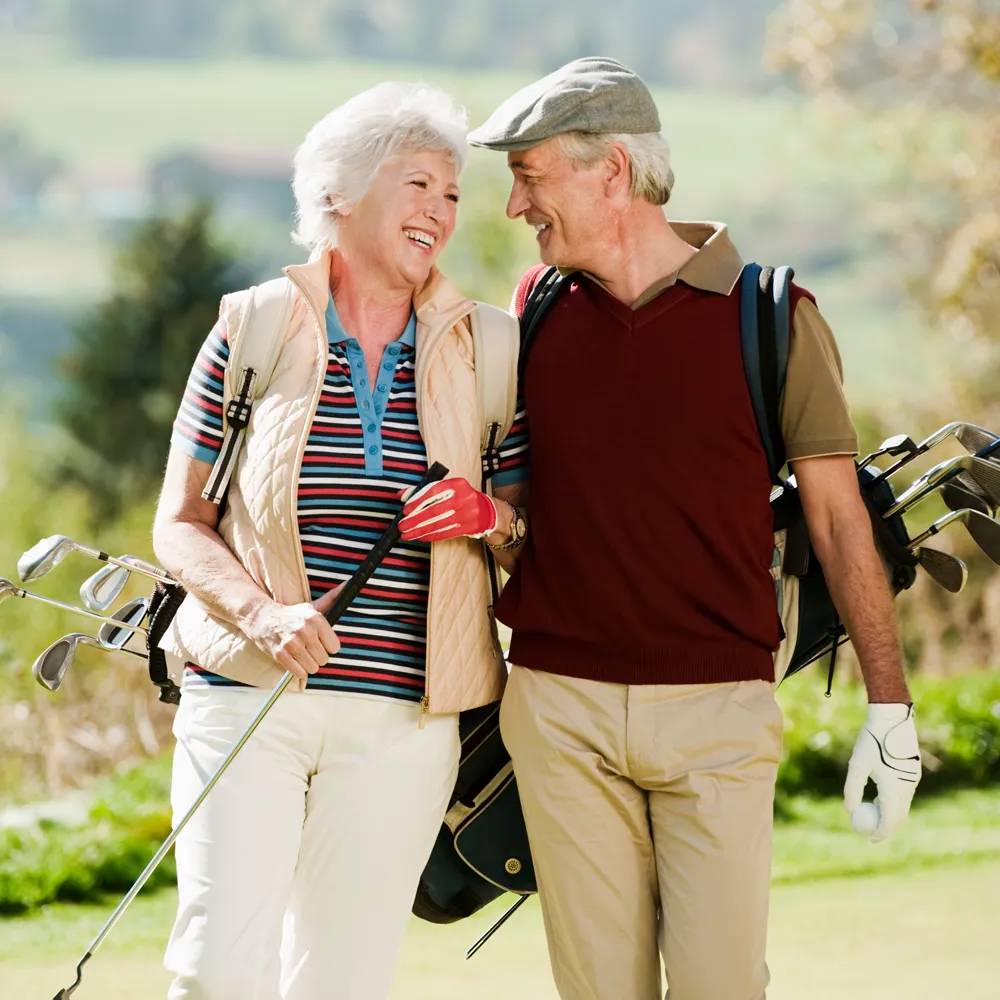 Older adults
Stay active and mobile for years to come
The short answer: Fit to Thrive is for you!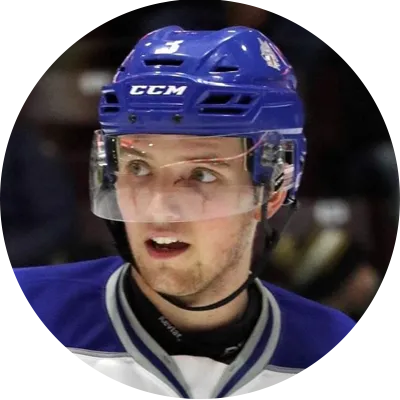 Kyle R.
Finally, something different for exercise that makes you feel unstoppable! The Fit to Thrive program is unlike any other exercise program out there because it makes you strong for the everyday while having fun. No lifting heavy weights just because — instead you get to run, jump, crawl, and bend as if you were a kid again.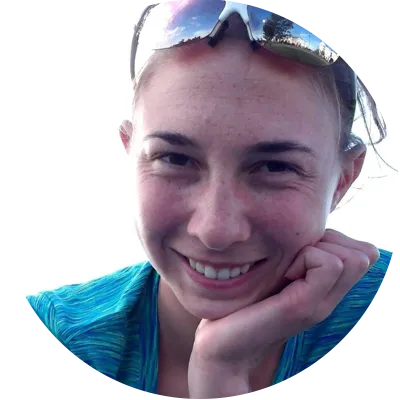 Ashley K.
I always got a great workout in but learned something about myself along the way. The instructors were great at meeting everyone at their level. I'm stronger and more flexible than I have been in a long time, and I have less knee pain after a basketball injury over a year ago! I highly recommend the Fit to Thrive program for everyone who wants a new and challenging exercise experience while having fun doing it!
Vidal
Thanks to Fit to Thrive, I can spend time with my young teen and pre-teen kids doing the things they want to do: biking, skateboarding, running around, and jumping.
Even basic tasks like bending and squatting for long periods of time (someone has to be the catcher!) are easy again. This program has made such an impact on my day to day.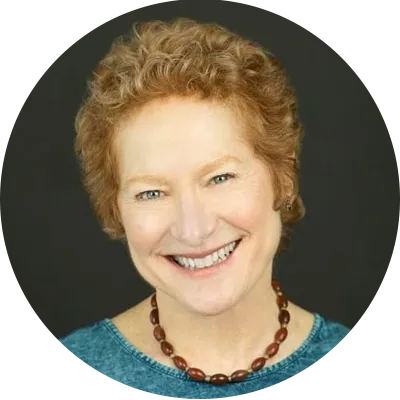 France K.
I look forward to practicing different aspects of the program at home even if only for a few minutes a day. The exercises relax me and warm up my body so that I feel confident, strong, and ready for the day. Fit to Thrive has improved my strength & skill for all of the things I love to do in life.
If you are an experienced mover, athlete, or even a novice to movement. there is something for you in this program that will change your life for the better. If you want to improve with age, this is your program.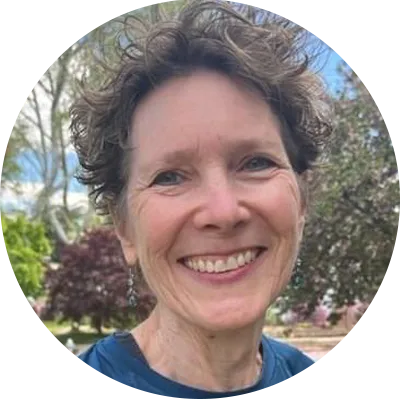 Judy R.
Fit to Thrive has made me more aware of which areas of my body I need to strengthen as I age. I've finally been able to customize my exercise plan based on my needs! It's so helpful to have a program that focuses on preventing injuries BEFORE they occur… Thank you!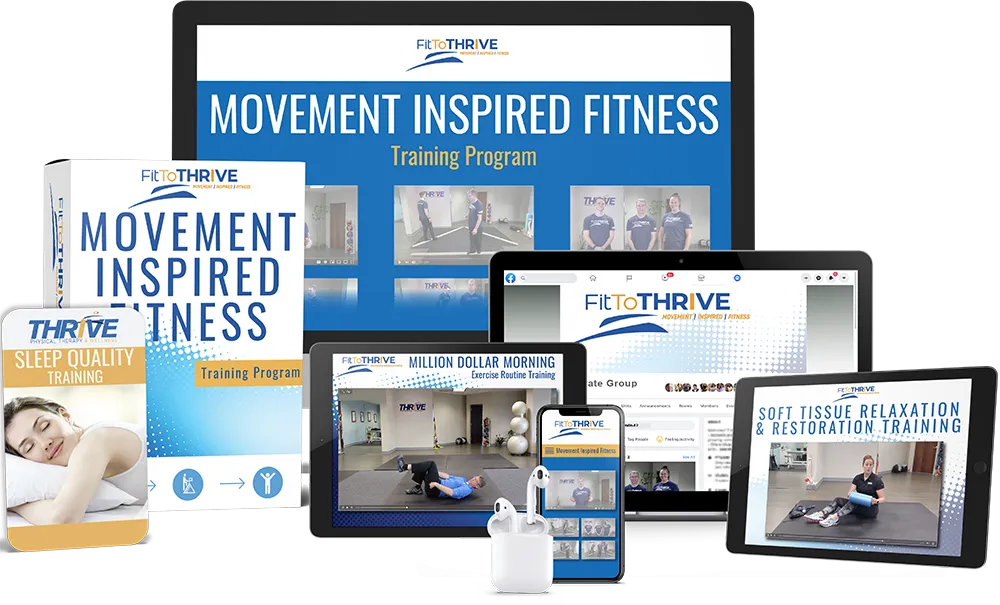 What's included in Fit to Thrive?
Our signature "Movement-Inspired Fitness" online training program
Thrive's physical therapists bring you expert training and instruction based on scientific principles of movement and years of helping thousands of patients moving better and maintaining physical capability.
Lifetime access
Go at your own pace with lifetime access to our digital curriculum (plus free updates!).
No fancy memberships
Join our live workouts from the comfort of your home — no expensive equipment or gym membership required.
An app to work on the go
Get the movement you need wherever you are with training programs right in our Thrive Gone Mobile app.
Upgrade your experience with live training
Fit to Thrive Live
Master the Fit to Thrive curriculum with live support (included with Complete Training package)
Over eight weeks, you'll get twice-weekly LIVE training sessions to ensure you're practicing what you're learning safely and at the level that's right for you:
One session to learn the skills, principles, and movements
One session to review, practice, and create a training program out of the movement strategies you're learning.
This group online training is perfect for anyone who wants personal attention — but in the privacy of your own home!
One-on-One Training
Get 100% personal attention ($253 checkout upgrade)
Get focused, one-on-one attention in dedicated LIVE sessions with a fitness specialist.
During your eight personal training sessions with one of Thrive's physical therapists, you'll get completely individualized attention to help you get the most out of the Fit to Thrive Program.
Exclusive Fit to Thrive bonuses
Here's what's included with your program.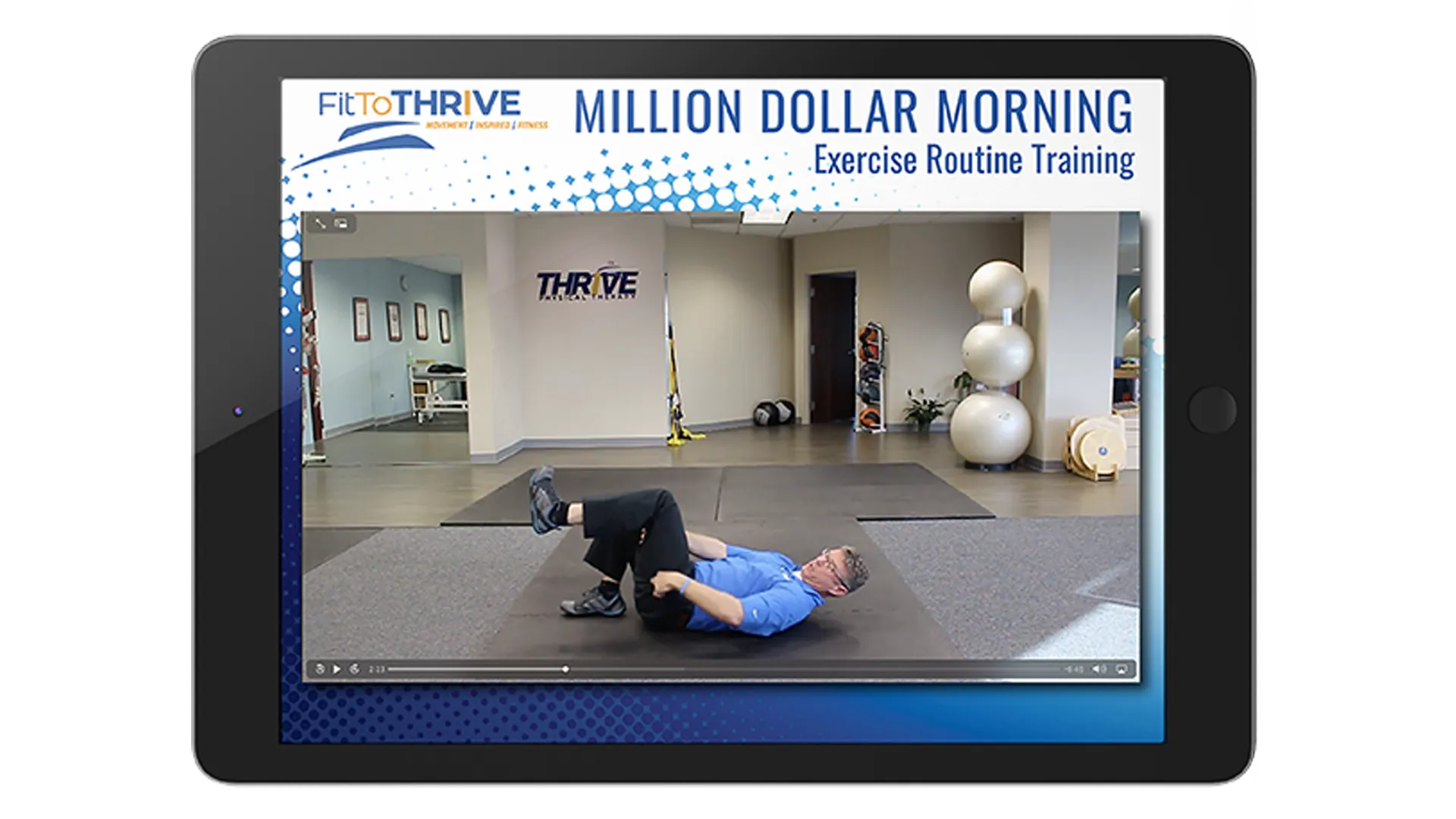 Million Dollar Morning Exercise Routine: Level One
Got 20 minutes? We've got your morning routine ready to go.
Start your day on the right track with this program that will increase your mobility, get your core working, bring key muscle groups online, and get you into your day feeling your best.
Million Dollar Mornings takes the guesswork out of seizing the day.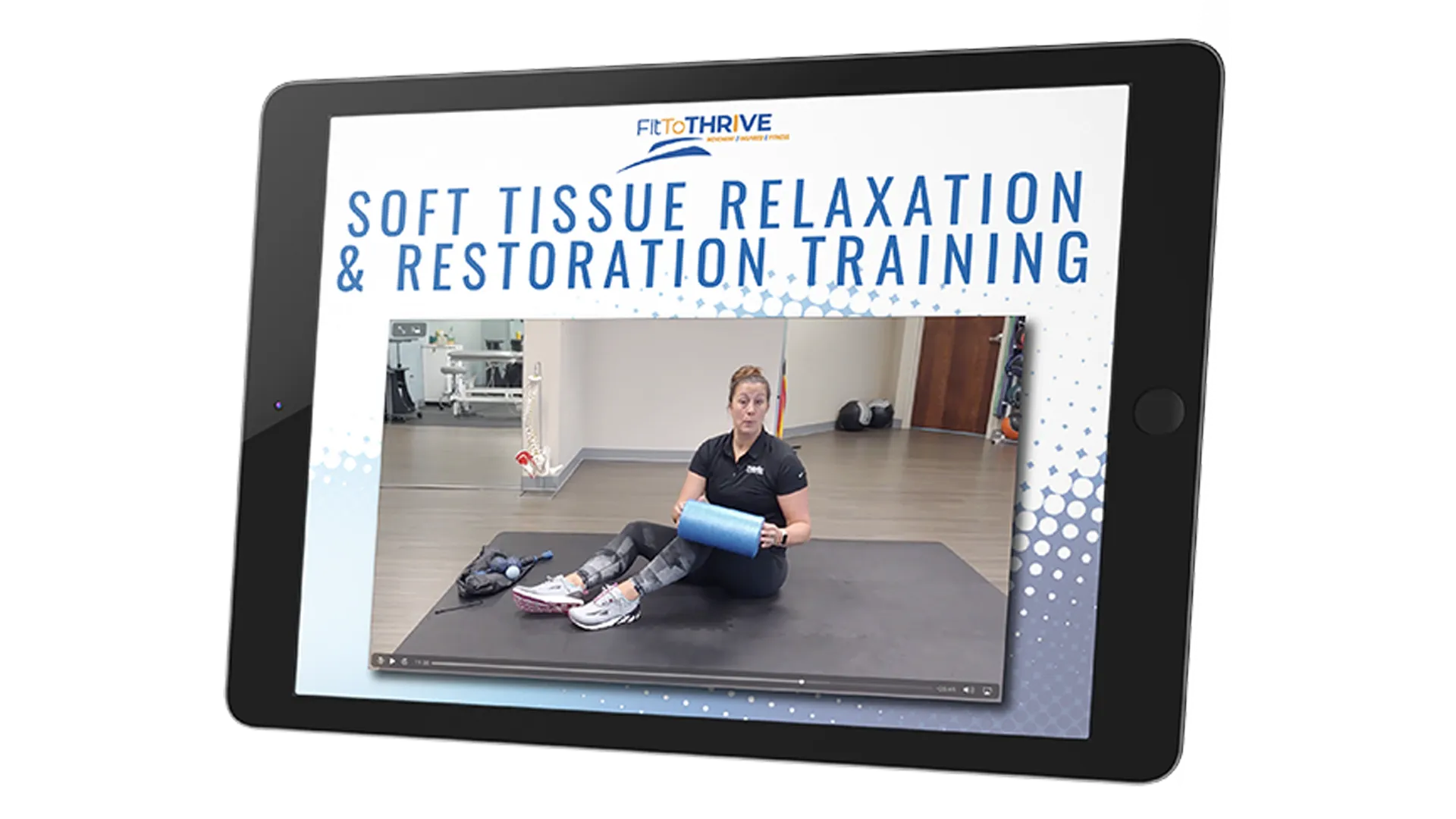 Soft Tissue Relaxation & Restoration Training
Fitness training can leave you feeling a little sore sometimes. Our soft tissue videos will train you to recover faster and more completely.
We'll teach you how to relieve muscle tension, increase mobility, reduce soreness, and understand how to feel your best post-workout and in the days after — using household items you already have!
Complete Training package bonuses
Complete Training package only!
Sleep Quality Training
Getting a good night's sleep helps prevent common medical disorders, preserve your energy level, maintain your ideal weight, and boost your mood — and that's just the beginning.
This online training will show you why sleep is your best friend and offer our top tips for sleeping like a baby and waking up feeling your best. You deserve amazing rest!
Complete Training package only!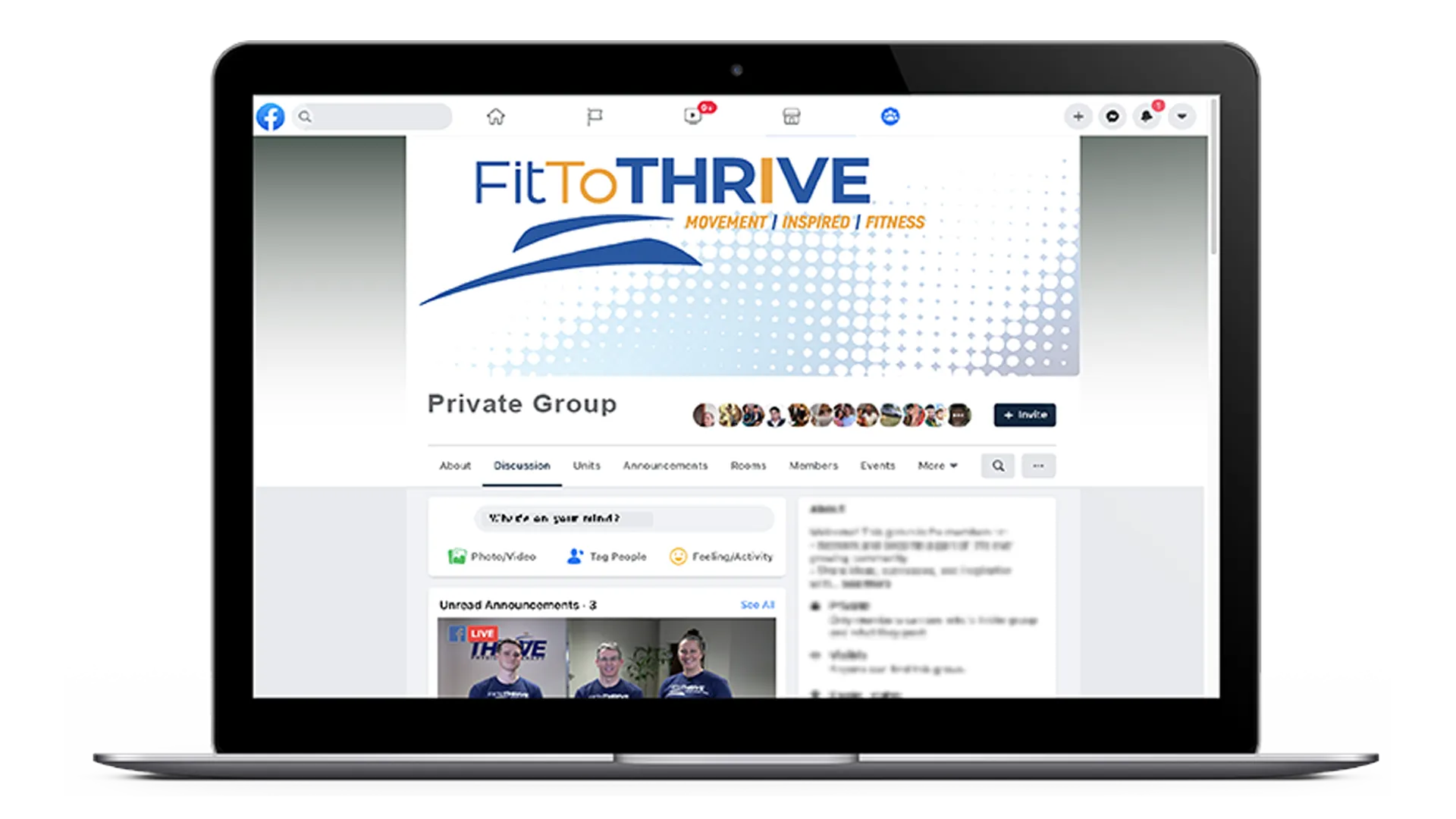 Private Fit to Thrive Facebook community
Build friendships, gain support, and swap tips and experiences with other people ready to THRIVE! This Facebook community offers access to exclusive content, special training, and ongoing support and guidance from the Fit to Thrive team.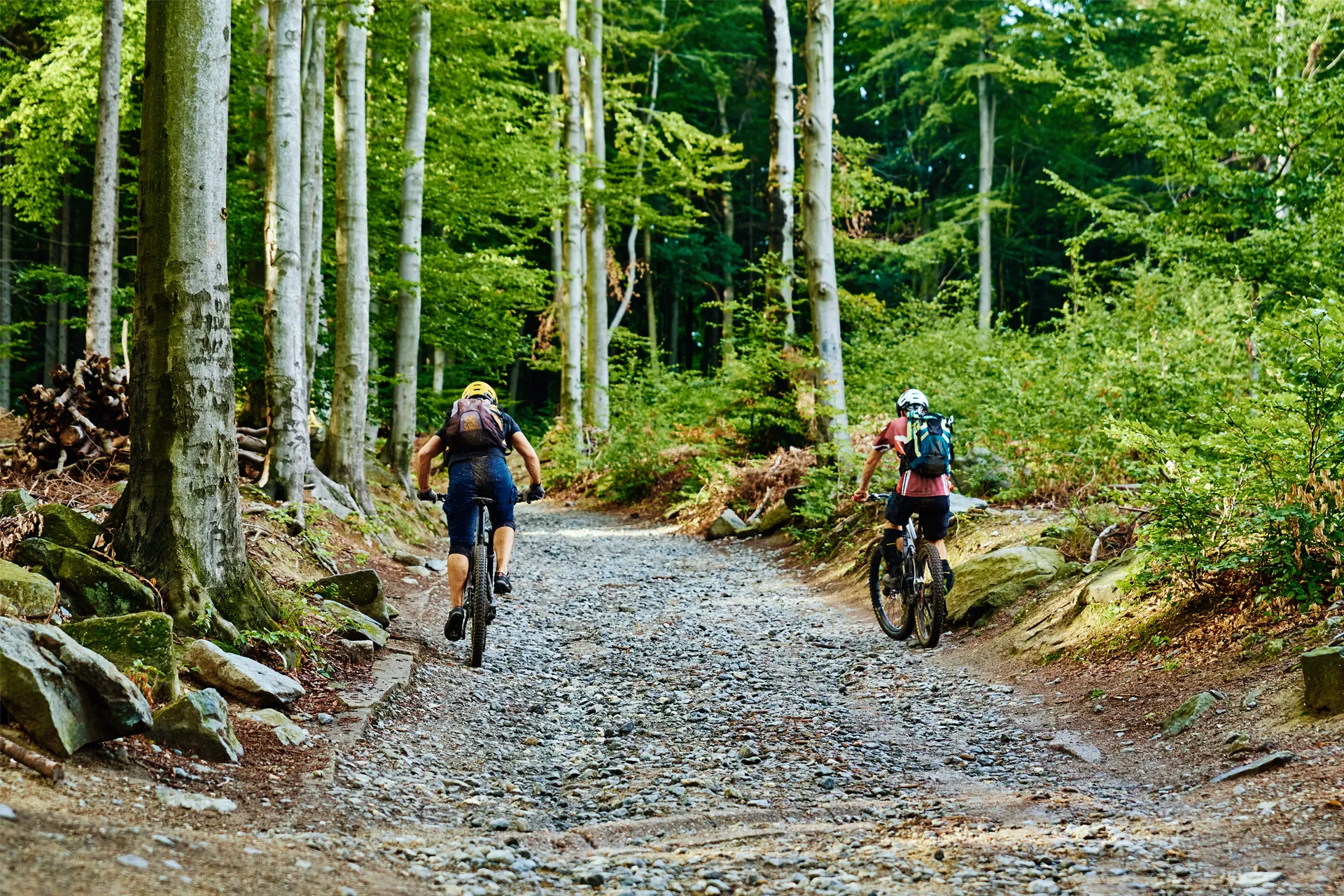 Access Fit to Thrive forever
Your body and needs will change over time.
That's why your Fit to Thrive enrollment includes lifetime access and updates.
Join today, work at your own pace, and repeat the program as often as you want!
Ready to get moving better and smarter?
Sign up
Select your Fit to Thrive package and upgrades — and get instant access.
Step up
Get started with module one to create
your unique fitness program.
Level up
Keep at it — you'll feel real progress within days if you stick to the program!
Fit To Thrive – Online Only
Get instant lifetime access
Fit to Thrive "Movement-Inspired Fitness" digital training program ($1299 value)
​​
Fit to Thrive core competency checklist and videos ($197 value)
​Healthy Nutrition for Life Essentials workbook ($297 value)
​
Lifetime access and course updates
Bonus #1: Million Dollar Morning Exercise Routine: Level One ($299 value)
Bonus #2: Sleep Quality Training ($250 value)
Fit To Thrive – Complete Training Package
Live training groups start several times throughout the year — join the waitlist to find out when we're kicking off next.
Fit to Thrive Live biweekly digital group training ($1299 value)
OR…
Upgrade to Fit To Thrive weekly one-on-one personal training ($1399 value)
PLUS everything in the Online program!
Fit to Thrive "Movement-Inspired Fitness" digital training program ($1299 value)
​​Fit to Thrive core competency checklist and videos
​Healthy Nutrition for Life Essentials workbook
​Lifetime access and course updates
EXCLUSIVE Bonus #3: Soft Tissue Relaxation & Restoration training ($299 value)
EXCLUSIVE Bonus #4: Private Facebook group membership for accountability and inspiration (priceless!)
Bonus #1: Million Dollar Morning Exercise Routine: Level One ($299 value)
Bonus #2: Sleep Quality Training ($250 value)
$642 (or 4 payments of $192)
Note: We cannot guarantee outcomes. Past participants have seen incredible results, but your results will vary depending on your starting place, effort level, and degree of proficiency with the concepts taught.
We can guarantee a comprehensive program and our best effort to help you get fit for life!