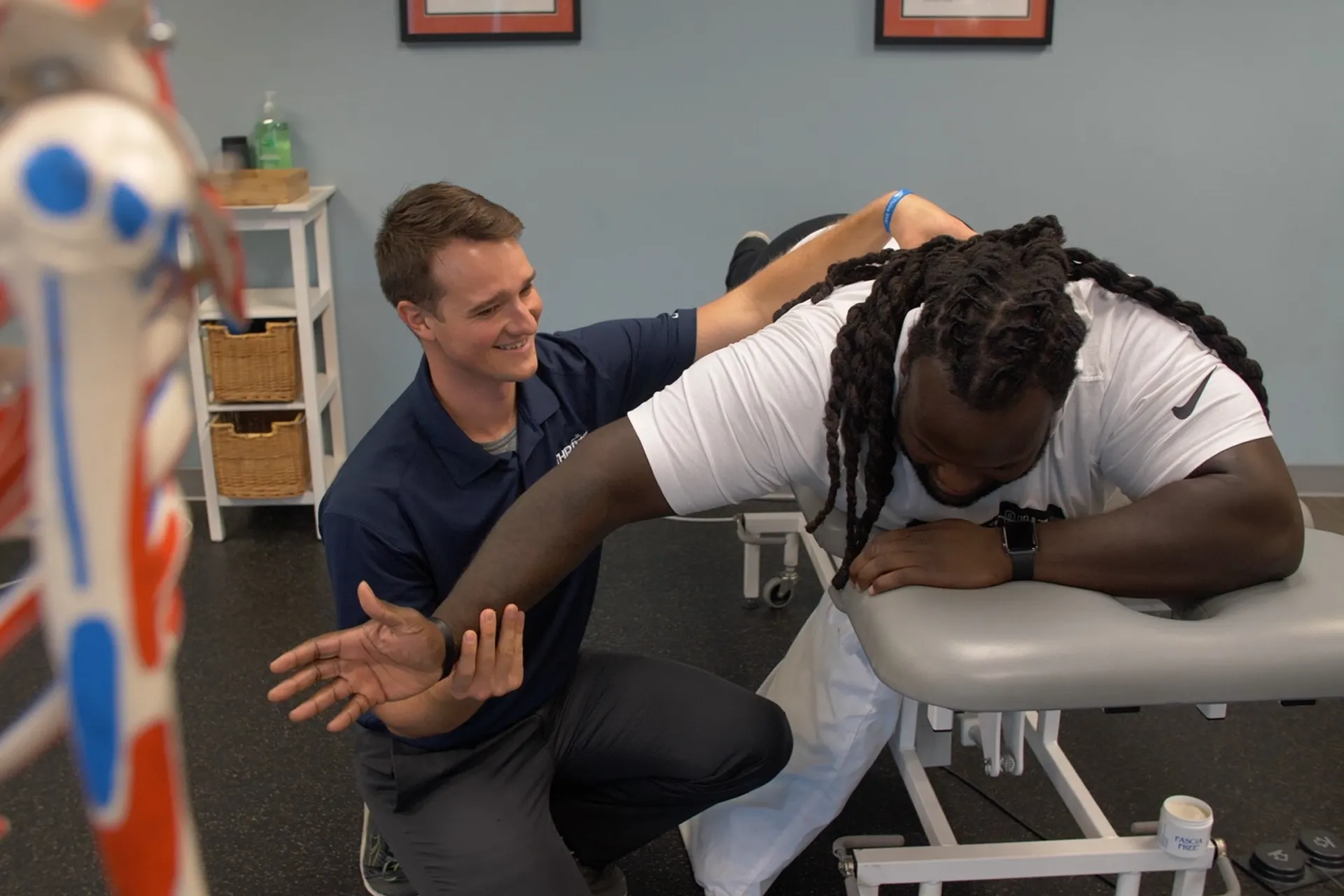 Why physical therapy? Because bodies are complex! And many issues can't be resolved with a single trip to the doctor's office.
And that's why we're here — to help you heal, recover, and get even stronger in the face of a physical challenge or limitation.
Physical therapy is backed by centuries of science and recommended by doctors for everything from treating neck or back pain to recovery from major surgery.
We can't wait to be part of your wellness journey.
What to expect at your first appointment
You can expect to get right to work, so wear comfy clothes you can move around in!
Your initial evaluation, which lasts about an hour, starts with a thorough history:
Detailed health history: We'll talk about why you're here, how your issues have evolved over time, and any additional concerns you have.
Systems review: We'll determine the root of your issues — and be sure what you're facing is musculoskeletal and something we can help you treat. (If PT isn't a fit, we can make a referral to the right specialist.)
Physical exam: We'll do some tests and measurements of your strength and mobility, and we'll look at how your issues are affecting your body's systems as a whole.
Before you leave our office, your physical therapist will make a diagnosis and create your custom treatment plan to resolve the issues you came to work on!
This appointment is also an opportunity for you to "feel us out."
We want you to feel comfortable and confident that our office is somewhere you can feel positive and motivated to work hard to heal, get stronger, and create a lifestyle of wellness.
We'd love for you to leave your appointment confident that this is the right place for you, some come with your questions ready to be answered.
Your treatment is personalized.
Physical therapy is never one-size-fits-all.
Depending on your diagnosis and the treatment plan we create together, your sessions may include:
Functional training (home, work, activities of daily living)
Exercises to correct physical imbalances
Neuromuscular re-education
Heat, cold, and electric stimulation (don't be scared!)
Prescription/application of equipment
You'll also receive a home exercise program to continue your wellness journey after you leave our office — it's time to put in the work!
Taking your wellness to the next level?
Healing and recovery are just the first step in your journey with us.
Increase your strength and performance
Our Fit to Thrive program blends online lessons and live coaching and training to help you create a fitness plan you'll love and can't wait to stick to.
Foster wellness and joy
Our signature Transformation Academy program guides you to a total wellness lifestyle with one-on-one health coaching, comprehensive nutrition training, massage therapy, and more.
Insurance coverage at Thrive
Great news: You no longer need a prescription in Virginia to seek treatment from a physical therapist!
More great news: We accept many insurance plans and continue to expand so that more patients can access the care they need.
As of September 2023, we accept plans through:
We'll verify your benefits and let you know whether you're covered — and how much your evaluation and subsequent visits will cost — before you come in.
More questions about patient care at Thrive?
We're here to help. Call our office to find out whether PT is right for you and get the information you need to get started.